Our mission at Teatro Grattacielo is to promote the rich tradition of Italian style opera, revitalizing lesser-known works, supporting emerging singers and creating all-inclusive community programming. We strive to address the lack of exposure for hidden gems, introducing them to new audiences. Through artist advocacy programs and partnerships with established professionals and organizations, we provide invaluable opportunities for young artists to develop their craft. By fostering diversity, inclusivity and belonging we stride to cultivate new opera enthusiasts and to contribute to the growth and sustainability of the art form, aligning with the broader goals of our arts community.
Vision
Specifically, we strive to:
• Present opera performances at major New York venues with the highest musical standards.
• Introduce new audiences to lesser-known operas through performances, lectures, and special events.
• Educate and introduce youth and young artists to opera and the arts through active participation.
• Expand the audience for all opera through education and community outreach programs.
• Assist emerging artists in developing their careers through performance opportunities.
Accomplishments
Teatro Grattacielo was founded in 1995 in New York City with a mission to preserve and perform lesser-known Italian operas. Over the years, the organization has achieved numerous milestones that demonstrate its commitment to excellence in the arts.
One of Teatro Grattacielo's most notable accomplishments is its successful production of rare and overlooked operatic works such as Mascagni's Guglielmo Ratcliff, Il Piccolo Marat, and Iris, Montemezzi's L'Amore dei Tre Re, L'Incantesimo, and Risurrezione, Zandonai's Giulietta e Romeo as well as Giordano's La Cena Delle Beffe . Through meticulous research and dedication to musical authenticity, the company has unearthed forgotten gems from the Italian operatic tradition and brought them to life on stage.
Additionally, Teatro Grattacielo has established itself as a leader in the opera community through its collaborations with internationally recognized artists and conductors. By fostering these relationships, the organization has been able to create world-class productions that are both artistically inspiring and technically impressive.
Overall, Teatro Grattacielo's dedication to preserving and promoting Italian opera has made it one of the premier opera companies in the United States. Its commitment to excellence and authenticity has earned it the admiration of audiences, critics, and artists alike.
Since its new leadership in 2020, the company has accomplished the following:
1. Expanded repertoire- In addition to performing lesser-known Italian operas, Teatro Grattacielo has also performed works in other languages. Teatro Gratttacielo is about to commission it's first opera in English.
2. International recognition- Teatro Grattacielo has gained a reputation outside of the US.
3. Collaborations- The company has collaborated with other arts and city organizations, including the Battery Park City Authority, Opera Hispanica, The Queens Symphony, Cultural and Conference Center of Crete, Lincoln sponsored The Festival of NY and Megaron Thessaloniki.
4. Educational programs- Teatro Grattacielo has a robust educational program that includes lectures, workshops, and masterclasses.
5. Innovations in performance- The company has experimented with multimedia and other interactive performance techniques to engage audiences in new ways.
Cultural Equity Statement
Teatro Grattacielo is devoted to creating a vibrant arts world in which diversity is respected and celebrated. Teatro Grattacielo believes that we have an obligation to be reflective of our multicultural community. We commit to a diverse, inclusive, and equitable environment, which we believe enhances our overall work and industry while we promote and enhance the work of women creatives within the opera industry.
Teatro Grattacielo believes that it is the role of artists to help see the world in new ways. We believe that diverse, multicultural perspectives, as depicted through art, help us to understand where we have been, wrestle with where we are, and imagine where we might go from here. Teatro Grattacielo recognizes that multicultural perspectives help add to the overall experience of art and increases innovation within our art form.
Over the past 29 years, our productions are a testamet of our commitment to promoting the arts, and fostering an inclusive and diverse community in which every individual can feel embraced, valued, and celebrated. We believe that the power of music and theater transcends al cultural barriers and has the potential to create positive change and connect people from different paths of life.
We recognize the leadership of Opera America in the field of professional opera and subscribe to their definitions of Equity, Diversity, and Inclusion.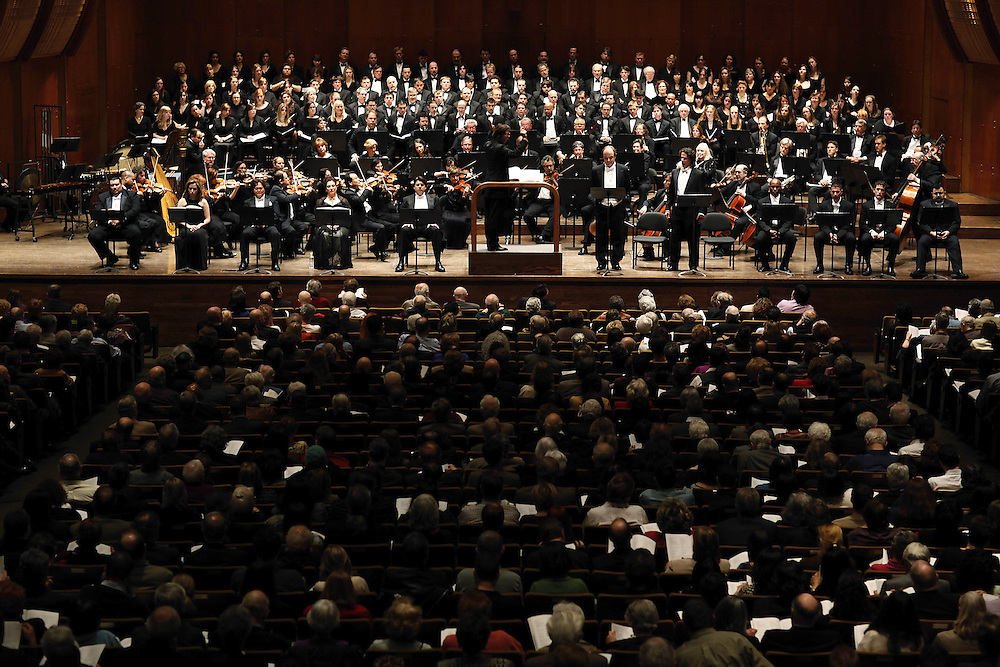 Opera in concert, Monday, April 13, 2009 at 8:00pm
AVERY FISHER HALL, LINCOLN CENTER