OPERA NEWS | FEDORA
TEATRO GRATTACIELO, which gives a concert performance of a single verismo opera each year, had long planned a Fedora for rising spinto soprano Michelle Johnson, and they weren't going to let a pandemic stop them. Giordano's opera was, necessarily, done in a compromised form. Presented virtually beginning December 1 as a recorded and edited video shot at Brooklyn's Target Margin Theater, it had only a piano as accompaniment. Of course, this was not the ideal way to experience this work. Like most verismo operas, Fedora suffers in a concert staging—you want to see these characters carrying on, and living the full dramatic moment—but the cast remained fully committed despite the imposed straitjacketing. And although Giordano's lush, fiery orchestration was missed, Grattacielo's music director Israel Gursky accompanied with sensitivity and dramatic power.
Johnson was very much the star of this diva showcase, and she delivered with the full-throttle intensity verismo calls for. This opulent-voiced singer clearly knows her Muzio and her Olivero. She maintained total dramatic commitment, and wielded her big, wide-ranging instrument with aplomb without ever stinting on textual insight. Rich top notes were matched by thrilling descents into the chest register, and she used glottal attacks sparingly but effectively. She is an ideal champion of the verismo style.
Her Loris, Jeremy Brauner, showed off fine, easy top notes in his famous entrance aria "Amor ti vieta," which gives a tenor little time to warm up. He sang his role with appropriate Italianate ardor and handsome tone. As De Siriex, baritone Marcello Guzzo brought a welcome darkness of timbre and presence to his dramatic scenes with Fedora; in his aria "La donna russa," he seemed more comfortable in the slower middle section than in the rapid-fire opening and closing. Maria Brea did not make the strained soubrette role of Olga any less tiresome by flouncing through it with a bored, spoiled demeanor, nor did she succeed at enlivening a restored Act II aria that is often cut.
In comprimario roles, Rubin Casas, Samuel White, and Jordan Weatherston Pitts all showed promise. Brian Montgomery made the most of his brief scene as the distraught coachman Cirillo, but his tone was impeded by a prominent wobble.
Stage director Malena Dayen had an unenviable task. She clearly did her best, but social distancing is just not what this highly theatrical piece is about. Better was the dramatic lighting scheme by Jon DeGaetano, which probably would have sufficed had stage movement been dispensed with. —Eric Myers
OPERAWIRE | FEDORA
With Christmas approaching, more and more opera companies — big and small, having no alternative in view, have come to accept the online space as their new address. But still, this new home seems alien and risky. There's so much to be afraid of, to avoid, to make mistakes with. Streams remain uncharted lands for the opera artists and video professionals have yet to fully adapt to the industry needs.
While major opera houses reflect on the advisability of filming and showing new productions, more flexible independent opera companies are paving their own, difficult ways on screens. They simply have no more time to wait.
Trying to stay afloat, smaller productions face the biggest challenges. How to fund a production is the very first big question, and certainly the most difficult one. But there are many others.
How do you meet the audience's expectations in the set design, sound quality? How do you find the right video producer? Where do you film? Where does the orchestra fit in? How do performers act while maintaining social distance?
But fortunately, there's another topic — the one with a very bright and clear response: Who will sing? The number of singers out of work is incalculable. And every artist getting a job, especially in a new production, surely brings all their energy and skill to show the best result. So when I see various modern productions refusing to use an expensive set design or the big orchestras, I know exactly what they are betting on.
Teatro Grattacielo's darker, sepia-toned "Fedora," as directed by Malena Dayen, is an opera you need to see today. It's here to give you hope, that tomorrow exists even for those collectives who are now forced to abandon even the most familiar basis of opera performance but not giving up on the big artform's potential as a chamber concert format. And in "Fedora," you can see how everything that has been cut off can be replaced and enriched with a vengeance using smart and witty solutions.
Minimalist and modern in the set design, Dayen's version of the work is highly rich in emotions. The light, the very technical harmonization of the voices and piano, the acting — it all hits to the heart when we are devoid of distractions such as decorations and costumes.
Accepting the New Rules
Finally, the close-ups don't force the eyes to concentrate on the details we never needed, but let us get closer to the singers and their special artistic approaches. I do believe, that the personality of Michelle Johnson, her endless pleasure of singing, made the soprano a convincing Fedora more than any princess dresses could ever do. And the big and devoted eyes of mezzo-soprano Eugenia Forteza built her character and defined her role before she sang her first tune.
The single piano accompaniment occasionally complemented by fisarmonica is surely not the orchestra, but conductor Israel Gursky makes it sound brighter, and surely more suitable inside these brick walls. His reading of the late 19th-century score is bold and not afraid of silence. His piano lines can both argue with the vocal lines and support them, as the reality of the play can both hit or cheer the characters.
When I think about Giordano's "Fedora," I immediately recall a recent independent "Study of Systemic Discrimination Against Women in Opera." The source itself might surely be a bright example of such discrimination — though the title role is written for the soprano, 10 male roles against only three females ruin all the joy.
But fortunately, Teatro Grattacielo's "Fedora" fights these sad statistics with its special courage and charm. The choices for the main characters are simply incomparable. Michelle Johnson in the title role is simply irresistible. She maintains her voice on full power throughout the whole performance but manages to smoothly transform it into a deep and gentle tone in her last minutes.
#GirlPower
Maria Brea, who created the role of Countess Olga with her seemingly unfettered vocal abilities, conquers the entire stage with her every appearance. Her cheerful soprano fully reflected the sparkling temper of her heroine. Forteza and soprano Kinneret Ely in their shorter roles also bring an absolutely special sound into the cold surrounding.
Jeremy Brauner used his tenor voice to the maximum. Though his voice often overmodulated on the recorded track (no doubt a recording challenge rather a vocal one), the range of the emotions that he managed to convey, made his character amazingly credible.
Another standout was baritone Marcello Guzzo, who portrayed De Siriex with incredible vocal polish and elegance.
The rest of the cast, including Rubin Casas, Michael Gracco, Brian Montgomery, Jordan Weatherston Pitts, Pavel Suliandziga, William Desbiens, and Rick Agster, also proved to be very talented in interpreting their roles. Unfortunately, there were some major inconsistencies in how their voices were picked up by the microphones during major ensembles, resulting in some inconsistencies in the overall sound quality.
Desperate times call for desperate measures. And here, today we see the earliest brave results of first attempts. Attempts to reach the audience that is locked inside their homes and inside their anxious minds, those who barely reach out any further than their TVs.
Opera companies today call for their audience, "Come and see, we are still here. But now we are different. Even doing what we did our whole life, today we do it differently. Imperfectly and with some mistakes, connected to the technologies we are so far from. But we will learn, and bring our art to you over and over again."
And I believe, though today the whole industry is far from the final solution to the problem, the musicians from the Teatro Grattacielo and director Dayen must be happy and proud – they definitely nailed it. And I only hope, they will soon see the response from the audience. Whatever one may say, this is the game of reciprocity.
OPERA UK | FEDORA
For 23 seasons Teatro Grattacielo has provided a yearly staging or concert staging of a lesser-known verismo work, sating the appetite of those New Yorkers yearning for II piccolo Marat or La cena delle beife. The tireless company founder Duane Printz yielded the reins as artistic director last year to the baritone Stefanos Koroneos. Covid-19 postponed this autumn's planned performances of Fedora with Csilla Boross and Francesco Anile, who were unable to travel Stateside. The company's longtime music director Israel Gursky opted for piano accompaniment—inevitable if at some cost to Giordano's less than extraordinary inspiration, rather thin beyond the familiar earworm Amor ti vieta'. The show, directed by Malena Dayen, was filmed in October at Brooklyn's Target Margin Theater, for streaming on Vimeo. Dayen's staging, mainly a matter of lighting, stance and judicious video editing, proved well considered if static.
Fedora has been staged at the Met in three star-fuelled productions: 1906-7 (with Lina Cavalieri and Enrico Caruso), 1923-5 (Maria Jeritza and Giovanni Martinelli/Beniamino Gigli) and 1996-7 (Mirella Freni and Placid° Domingo). Met audiences always adored Freni, but her princess proved less than combustible. As with Callas and Medea, most listeners who have any strong ideas about what makes a true Fedora got them from an exceptional past performer's recordings: in this case Magda Olivero. Her musically scrupulous 1969 portrayal gives the character dramatic stature that eludes most.
Had Grattacielo caught itself a Fedora? I've seen Michelle Johnson build impressive veristic credentials including Respighi's Silvana (in La fiamma) at AVA, the title role of his Sakiintala at Grattacielo, a Philadelphia Manon Lescaut, Minnie in Louisville and Suor Angelica with her mentor Martina Arroyo's Prelude to Performance programme. Her confidently acted assumption here—an unusually full chest voice and warm middle tones, wedded to textually illuminating phrasing—dominated things as Fedora must and augured well for eventual Toscas and Maddalenas. Gursky enforced good ensemble, dispatching the piano part with elegance and flair. Both Johnson and Jeremy Brauner's Loris would have benefited from an orchestral cushion under their substantial spinto voices. Not an animated actor, Brauner produced decent, dark tone, if rarely varying from mezzo forte. In the `personality part' of De Siriex, Marcello Guzzo's experience told in manner and dynamic variety. Maria Brea (Olga) channelled the right look and energy but sounded rather shrill. Ruben Casas (Grech) fielded a solid bass; Pavel Suliandziga (Sergio)
DAVID SHENGOLD
CROSSING OVER | PARTERRE BOX
The assassination of Tsar Alexander II by Nihilists in 1881 was far too thrilling an event not to inspire Sardou to derive a play from it for his girlfriend, Sarah Bernhardt. Of course, the censors demanded no Tsars be damaged or even mentioned in the action; instead, the piece concerned Nihilists who murder the fiancé of a princess named Fedora. She vows revenge and lures the aristocratic murderer to a trap in her home in Paris … where they fall in love…. (Violent twists of emotion were specialties of the Bernhardt-Sardou team.)
A young composer named Umberto Giordano saw Sarah play Fedora, and lusted to make an opera of it. Generations earlier, Verdi would have done so at once, but copyright laws had come into fashion and Giordano was, in Sardou's opinion, a nobody. He wanted a top composer to set his play. Only after Andrea Chénier had given Giordano sufficient reputation was permission granted, and Fedora was composed for Gemma Bellincioni. An up-and-coming tenor named Caruso created the role of her lover, Loris.
Teatro Grattacielo, which has presented concert performances of Verismo operas for 30 years, chose Fedora for a winter's semi-staged offering. The company usually presents works with a sizable orchestra and chorus—Verismo's chief distinction from earlier Italian opera is the rich orchestration devised by composers who had studied Wagnerian style—but Fedora, a short opera with no chorus, many small roles, and only two big ones is ideal for Verismo in times of Pandemic.
The orchestra is replaced by a piano, played by company maestro, Israel Gursky, who easily doubles in the role of Lazinski, "the new Chopin," a Polish pianist who performs in Fedora's salon but never sings a note. Besides Fedora and Loris, the only roles of any size are a French police chief and a dizzy countess for whom "it's so delicious to conspire." Actually, the most interesting characters in this story never appear at all: Fedora's murdered Vladimiro, his sinister father, the chief of the Tsar's police, Loris's faithless wife, and his drowned younger brother.
The cast were all carefully tested before removing their masks to perform, and the sets and costumes are basic black. (No Paris salon, no Swiss lake views.) Malena Dayen directed the cast, and without furnishings to distract them, they prowled the stage with sinister energy, exchanging significant looks and deadly secrets as though fearing Nihilists behind every drapery. The lighting of the spare set is by Jon DeGaetano.
The most commanding figure on the stage, properly, was that of Fedora, Michelle Johnson, a recent Met National Council Auditions winner. She piled her hair majestically high and let her décolletage plunge deliciously low, the better to display the jeweled cross on which she swears vengeance and other passionate Verismo sentiments. This is a good thing, as the cross is a brooch concealing (as you expected) a fatal poison—but for whom? Johnson took a little time to fully engage the support of her large, glowing instrument, but by the love duets of Act II she sounded certain and amorous throughout a deep range. Act III, and its designated tragedy, brought full-throated remorse. This is, after all, her opera.
Loris Ipanov was Jeremy Brauner, acting and singing with a dark lyric ardor and an appealing clarity of tone. "Amor ti vieta," the only tune anyone remembers from this opera, was full of yearning, and his romantic sound and effortless vocal production gave great pleasure—he had no trouble at all keeping passionate pace with his princess. I hope to hear him soon in roles that offer him more to do.
Marcelo Guzzo (De Siriex), made a suave and very tall courtier, Rubin Casas (Grech), was alarmingly theatrical as a Russian counterspy, and Maria Brea charming as Countess Olga, Fedora's flibbertigibbet sidekick. There are nine or ten roles of no significance in this opera, mostly in the salon that is background for Fedora and Loris' mutual seduction, but they all must be sung well. All were ably cast, reminding us how full New York is of singing talent, eager to pour itself into our ears, in perilous confrontation, face to face.
JOHN YOHALEM
FEDORA WINS TOP PRIZE IN 4TH DIMENTION INTERNATIONAL INDEPENDENT FESTIVAL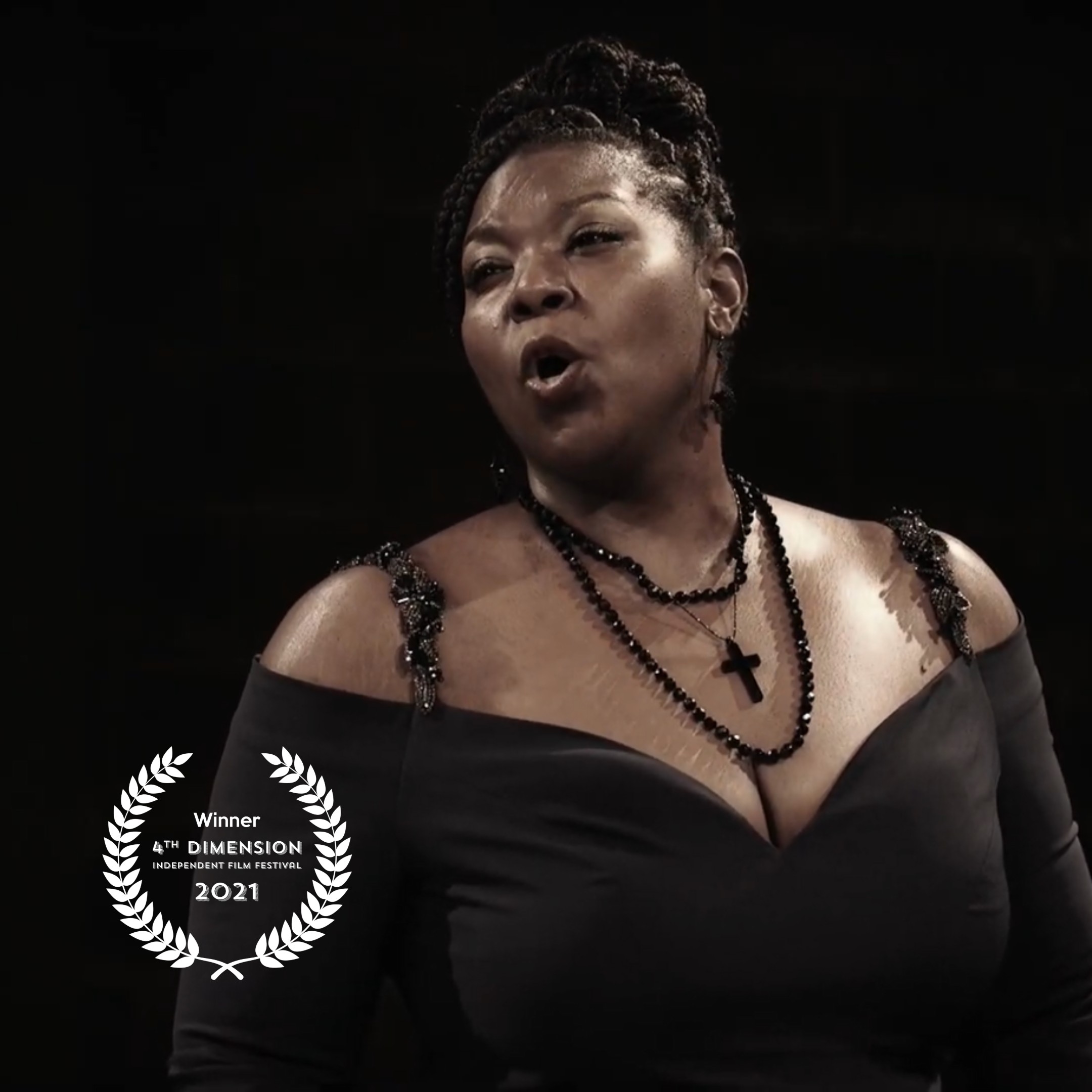 FEDORA IS OFFICIALLY SELECTED AT MUNICH VIDEO AWARDS FESTIVAL