in co-production with Battery Park City Authority
JUNE 4TH AND 5TH, 9:00PM EST
Festival of New York
Posters
Giulietta e Romeo is dedicated to Francesco and Mary Giambelli
​GIULIETTA E ROMEO
TRAGEDIA IN TRE ATTI
LIBRETTO | ARTURO ROSSATO
As Federica Fortunato, scientific director of the Riccardo Zandonai International Study Center in Rovereto wrote, "the story lends itself to being a metaphor for our time: love, tenderness, friendship opposed to the logic of blood and power". The epilogue is heartbreaking, but in reliving the emotions of Juliet and Romeo we all cultivate the image of that suffocated youth, as a noble response to the perverse conventions of the world. An alternative life in these years of pandemic and with horror in the heart of Europe.
Giulietta e Romeo, 3 acts of love, passion, death and tragedy stripped down to their most pure and intimate. The site-specific production will take place in Robert F. Wagner Jr.Park, Battery Park City, positioned next to New York's waterfront with one of the most iconic views in the city, the Statue of Liberty in clear view.
With this production Teatro Grattacielo celebrates the 100th Anniversary of the opera, premiered on 14 February 1922 at the Teatro Costanzi in Rome.
Creative Team
*Parsons School of Design student
** Aveda Arts & Sciences Institute New York student
*** The New York Makeup Academy Student
​The New York Institute of Technology creative team
Cast
* Frank Sinatra School of the Arts High School alumni
Cover Cast
Chorus
SOPRANO: ANNA SIMON*
MEZZO: TAMMILYN KIM*
TENOR: KEVIN COURTEMANCHE, BRIAN K WRIGHT, NETZA JIMENEZ*
BARITONE/BASS: DAYVEN MARTINEZ*, ADAM JAGGERNAUTH*
* Frank Sinatra School of the Arts High School students/alumni
Actors
The Teatro Grattacielo Orchestra
Violin I Bryan Hernandez-Luch (concert master), Lisa Matricardi, Hiroko Taguchi, Paul Woodiel
Violin II Regi Papa, Orlando Wells, Kristina Musser
Viola Artie Dibble, Will Curry, Katie von Braun
Cello Peter Sachon, Laura Bontrager
Bass Pawel Knapik
Flute & Piccolo John Romeri, Karen Bogardus
Oboe & English Horn Alex Knoll
Clarinet Nuno Antunes, Pascal Archer
Bassoon Damian Primus, Gina Cuffari
French Horn Rachel Drehmann, Kyle Hoyt
Trumpet John Sheppard, Hugo Moreno
Trombone & Bass Trombone Julie Dombroski, Max Seigel
Timpani & Percussion Kory Grossman, Clara Warnaar
Piano Annbritt DuChateau
Harp Grace Paradise
Stage Managers
LIGHTING/SOUND/STAGE TECH TEAM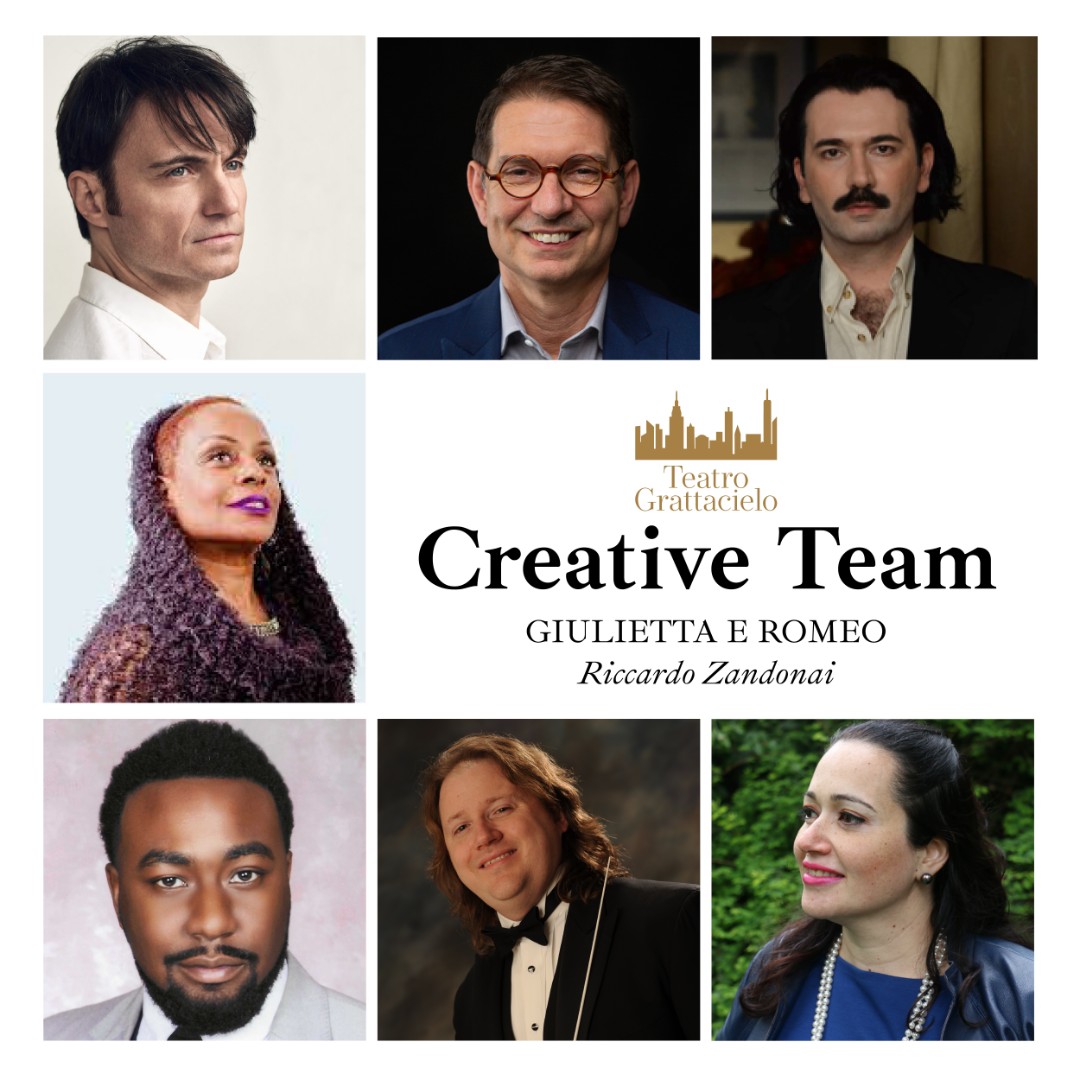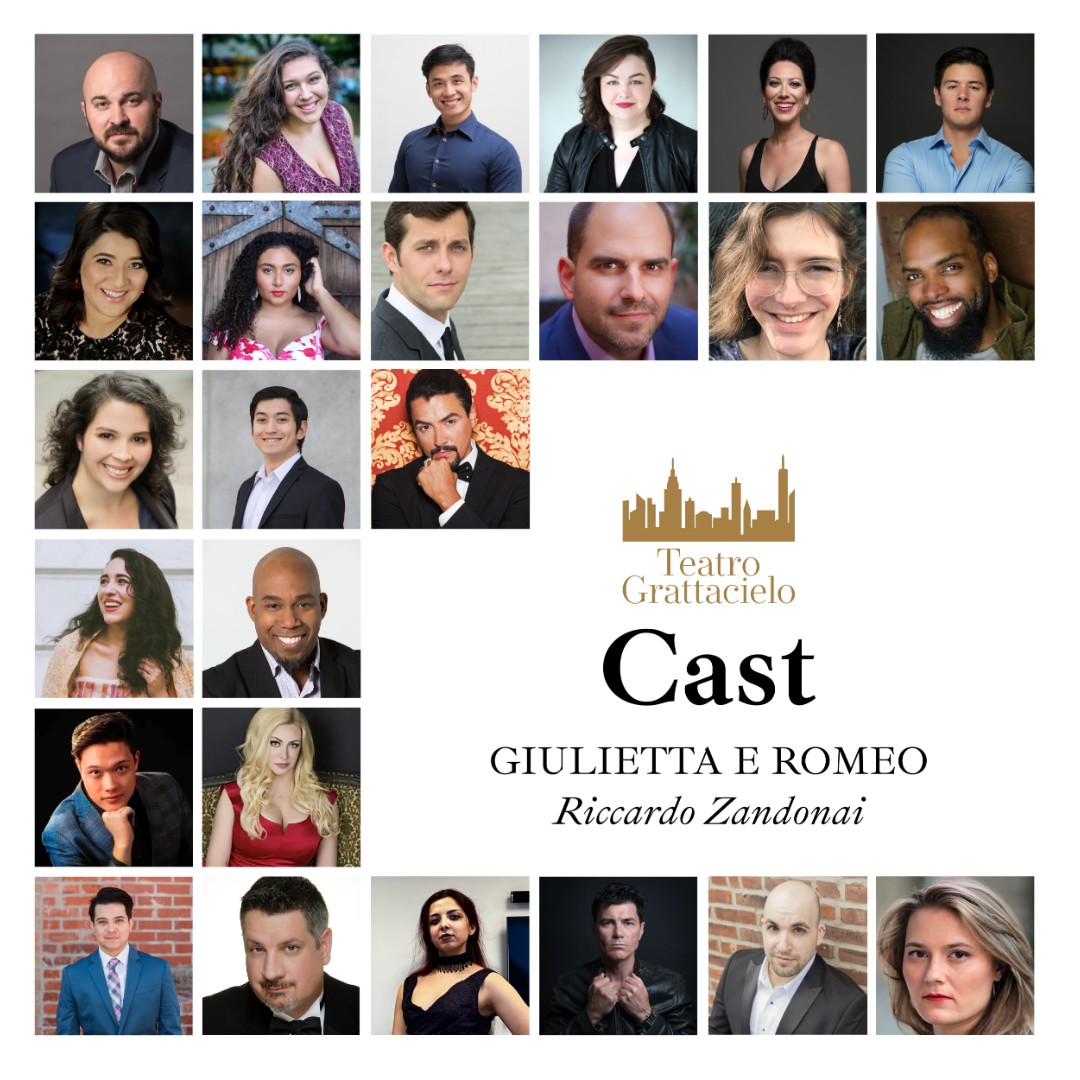 SYNOPSIS
ACT 1
Small square in Verona at the Palace of the Capuleti, night
The Capuleti led by Tebaldo crash a party thrown by their sworn enemy, the Montecchi. A heated argument occurs that is interrupted by a mysterious masked stranger. Before things can escalate further guards are heard approaching. The group flees, all goes dark. Only the masked man remains, hiding while the town crier passes by. When all is clear, the masked man reemerges: it is Romeo. Giulietta greets her lover, Romeo. The two youth steal a moment to profess their eternal love despite their families' enmity. Romeo leaves his beloved with a final kiss at dawn.
ACT 2
Courtyard in the Palace of the Capuleti, late afternoon
Tebaldo learns about Giulietta and Romeo and has come to the palace to confront her. Giulietta brings shame to the family, she has been promised to Count Lodrone. Giulietta refuses, swearing herself to Romeo. Shouts can be heard from the street, more fighting between the two families—Romeo is sure to be among them. Tebaldo leaves, seeking revenge.
With the help of Isabella the handmaid, Romeo eventually makes his way to Giulietta. Soon they are discovered by an enraged Tebaldo who challenges Romeo to a fight. Romeo unsuccessfully tries to reason and when forced to defend himself, tragically kills Tebaldo. Giulietta and Isabella scream, causing a commotion in the chamber. Taking advantage of the moment, the two manage to drag Romeo down a secret passage. It is clear Romeo's only option now is to escape from Verona. A painful goodbye between the lovers, Giulietta is left sobbing.
ACT 3
First picture: square in Mantua, afternoon
Romeo successfully escapes to Mantua, where he awaits a return message from Verona. A storm is brewing in the distance, Romeo paces in the town square lost in thought. His mind slowly comes to focus when he hears a nearby street performer sing about the death of Giulietta, the "most beautiful flower in Verona". He violently urges the singer to tell him more and learns that Giulietta died just before her marriage to Count Lodrone. The storm arrives just as the messenger appears to confirm the singer's story. Now with nothing to keep him, Romeo sets off in the downpour towards Verona.
Second picture: the chapel of the Capuleti, dawn
Romeo arrives at a locked gate, he sees his Giulietta but cannot get to her. He desperately begs her to wake up and come to him. With no response, he is certain she is dead. Defeated, he pulls out a jar of poison and drinks it greedily, going down contorted in pain. As the sky clears, Giulietta opens her eyes and stands up. She is shocked to see her lover barely moving on the ground. She opens the gate and throws herself into his arms. After a few heartfelt kisses, Romeo regretfully explains he took poison. A realization sets in that these are their last moments together. They can't help but tell their sides of the story. Giulietta reveals that to avoid the wedding she took a potion that put her in a death-like state, she sent a messenger with the plan. Romeo tells her about his wild ride ... one last kiss.
Giulietta cannot, will not, live without Romeo. She sinks down beside him.
The lovers die together entwined in their ill-fated love. The morning bells ring, sunshine greets a new day.
Giulietta e Romeo is dedicated to FRANCESCO AND MARY GIAMBELLI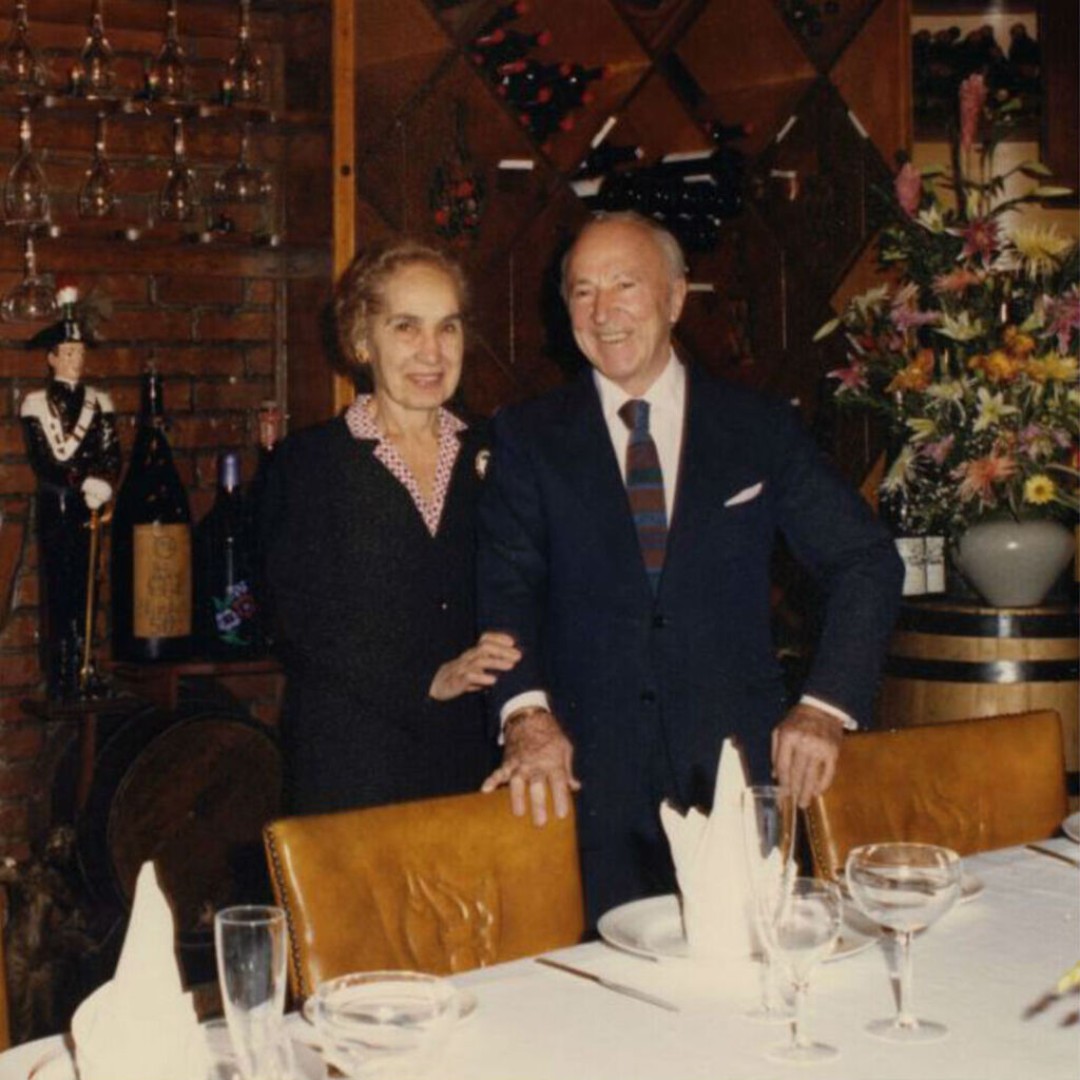 Frank Giambelli had a long career as proprietor of few of the most celebrated Italian restaurants in New York City. In 1956, Francesco opened Giambelli's Ristorante on Madison Avenue and 37th Street in New York, where Italian American cuisine was elevated to culinary greatness. In 1960, he and Mary opened Giambelli's 50th Ristorante on 50th Street near St. Patrick's Cathedral. Later, Francesco and Mary took over the charming Mercurio Ristorante on West 56th Street in Manhattan. The couple established The Francesco and Mary Giambelli Foundation with the intention of creating a legacy that would continue their lifetime charitable intentions and promote the ideals of Italian American Culture.
The Foundation donated items to the CIA that follow his life and career from Voghera, Italy, where he was born in 1915 and opened his first restaurant in 1948, to America, where he met his wife and launched a restaurant that would serve New Yorkers for more than 50 years. Giambelli 50th, known for its impeccable service and authentic Northern Italian cuisine, was a place where both U.S. presidents and tourists were welcomed and entertained by the Giambellis and their staff. It closed in 2009, three years after Mr. Giambelli's death.
OUR PARTNERS